Know about Dermatology medical billing
The healthcare sector in the US is rapidly changing and optimizing your practice's administrative processes is crucial for saving time and money. Dermatological billing is developing and getting more challenging since it involves a lot of paperwork and documentation.
Challenges in Dermatology Billing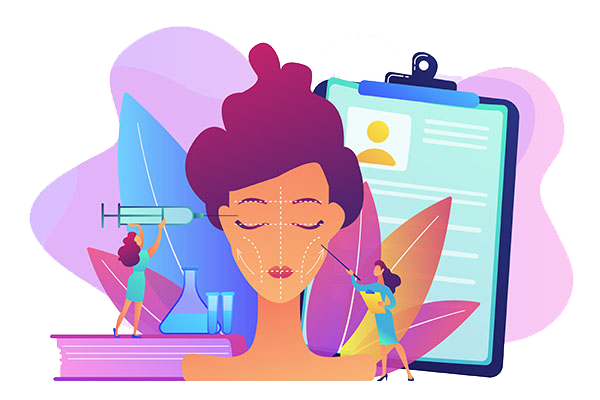 In dermatology, accurate medical billing is crucial for several reasons. It is a challenge to get reimbursed for the dermatology services rendered due to various reasons. The range of procedures involves different codes and thereby possibilities of errors too.
Dermatology billing requires accurate documentation to optimize the administrative cost and time. There needs to be proper knowledge regarding Dermatology coding and how to apply modifiers to dermatological procedure codes.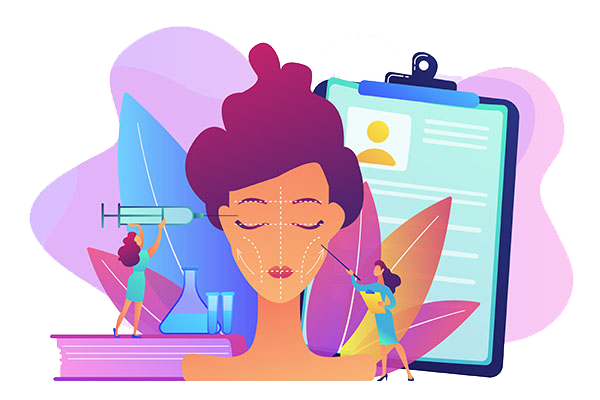 Common Guidelines for Dermatology Billing
Dermatology procedures could be a basic cosmetic procedure or a complex skin graft. Even though all medical practices require precise billing procedures to get payments, dermatological clinics must take additional measures to ensure their accuracy. Here are some guidelines that could be kept in mind while doing billing for Dermatology.
Outsourcing Dermatology billing
Due to the complexity of medical billing in Dermatology, it can be challenging for providers to keep up with billing regulations and ensure maximum reimbursement. By partnering with an efficient billing company like Practolytics, dermatologists can streamline their billing processes and at the same time free up internal resources from the administrative burden too.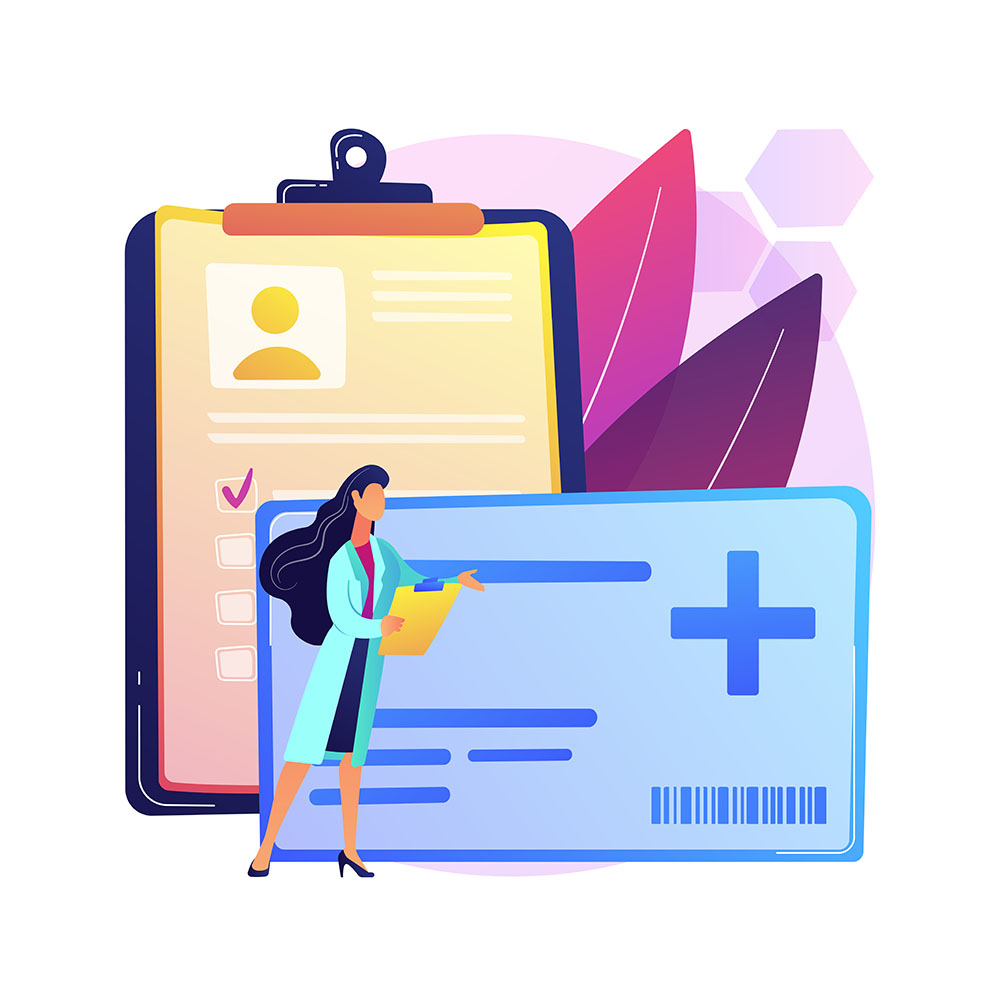 How can Practolytics help?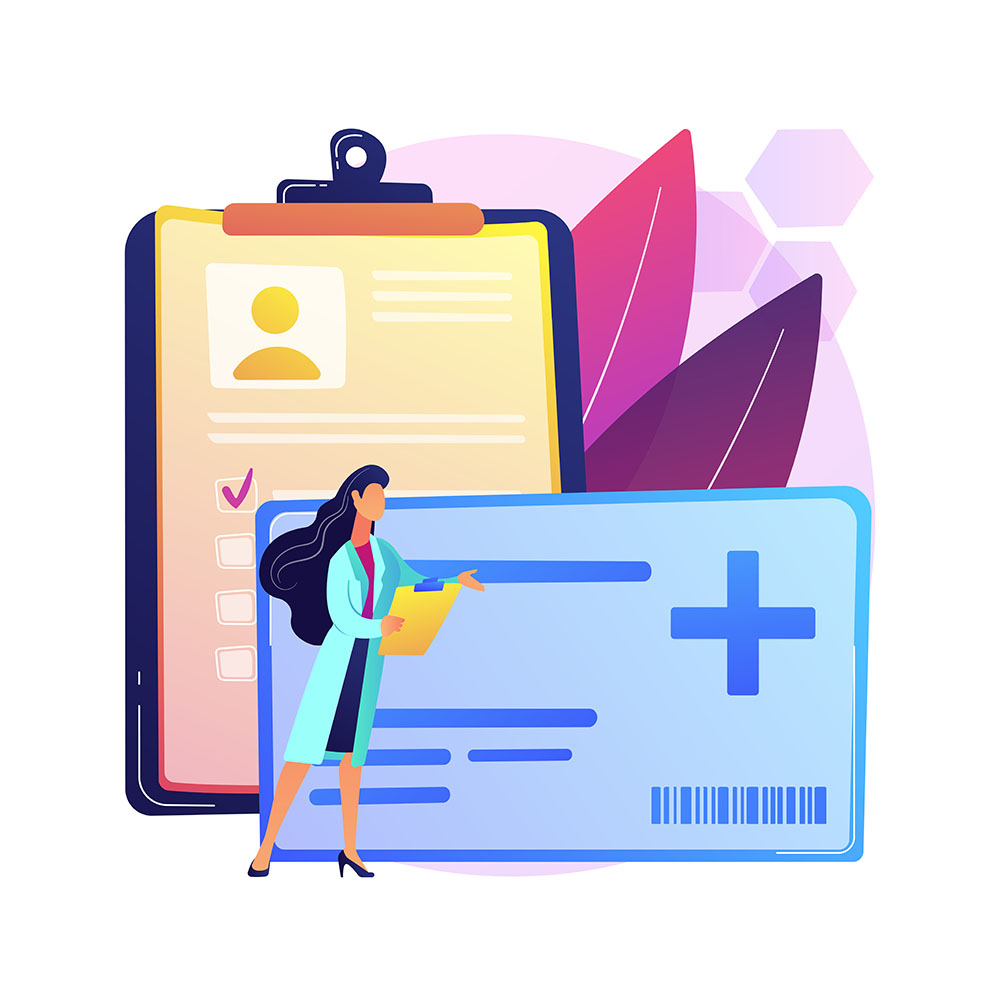 Practolytics is your one-stop solution for all the medical billing, practice management, patient management, and revenue cycle management activities a healthcare practice needs to carry out. A Platinum partner amongst 850+ billing companies, Practolytics is a 20+ year-old healthcare technology and revenue cycle management services company, providing medical billing service solutions to 180+ practices of all sizes spreading across 31 states and serving more than 28 critical specialties.
If you are looking for a trusted dermatology medical billing company, Practolytics with its diverse background in every aspect of healthcare is your best bet. Outsource dermatology practice billing to us, we can help you streamline your billing processes so that you can focus on your primary responsibility – patient care.
Optimize Your Dermatology Practice Revenue
Practolytics expertise can help you in maximizing your Dermatology Practice revenue.
Customer Stories
Three years ago I started a dermatology practice. Six month into my start up I had received approximately $15,000 and I had $115,000 in my accounts receivables. I had put my wife's and my entire savings and every penny we had into this practice, not forgetting to mention, our hearts and souls. We were three weeks from not making payroll when Practolytics contacted us.
Customer stories
Practolytics has been a huge help for Personic HealthCare. They have done an amazing job for us and have been available at any given time for any questions that we might have. Within the billing industry, our experience with Practolytics has been a revelation. I would highly recommend Practolytics for any medical practice which wants 5 star service level.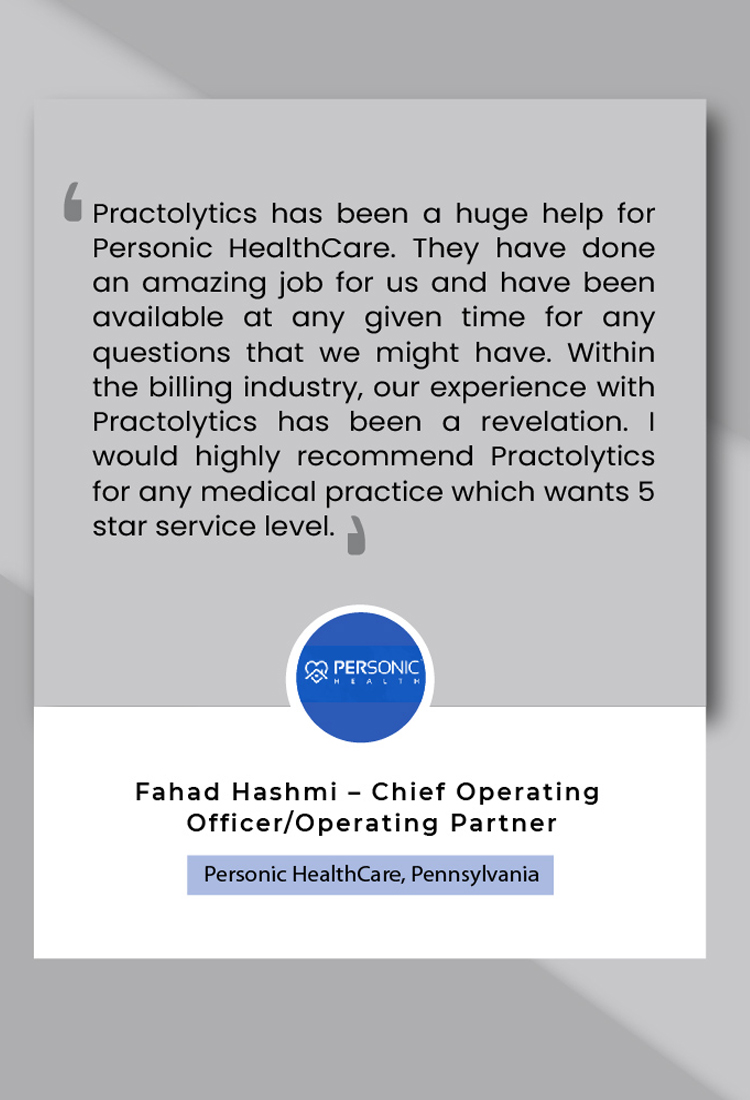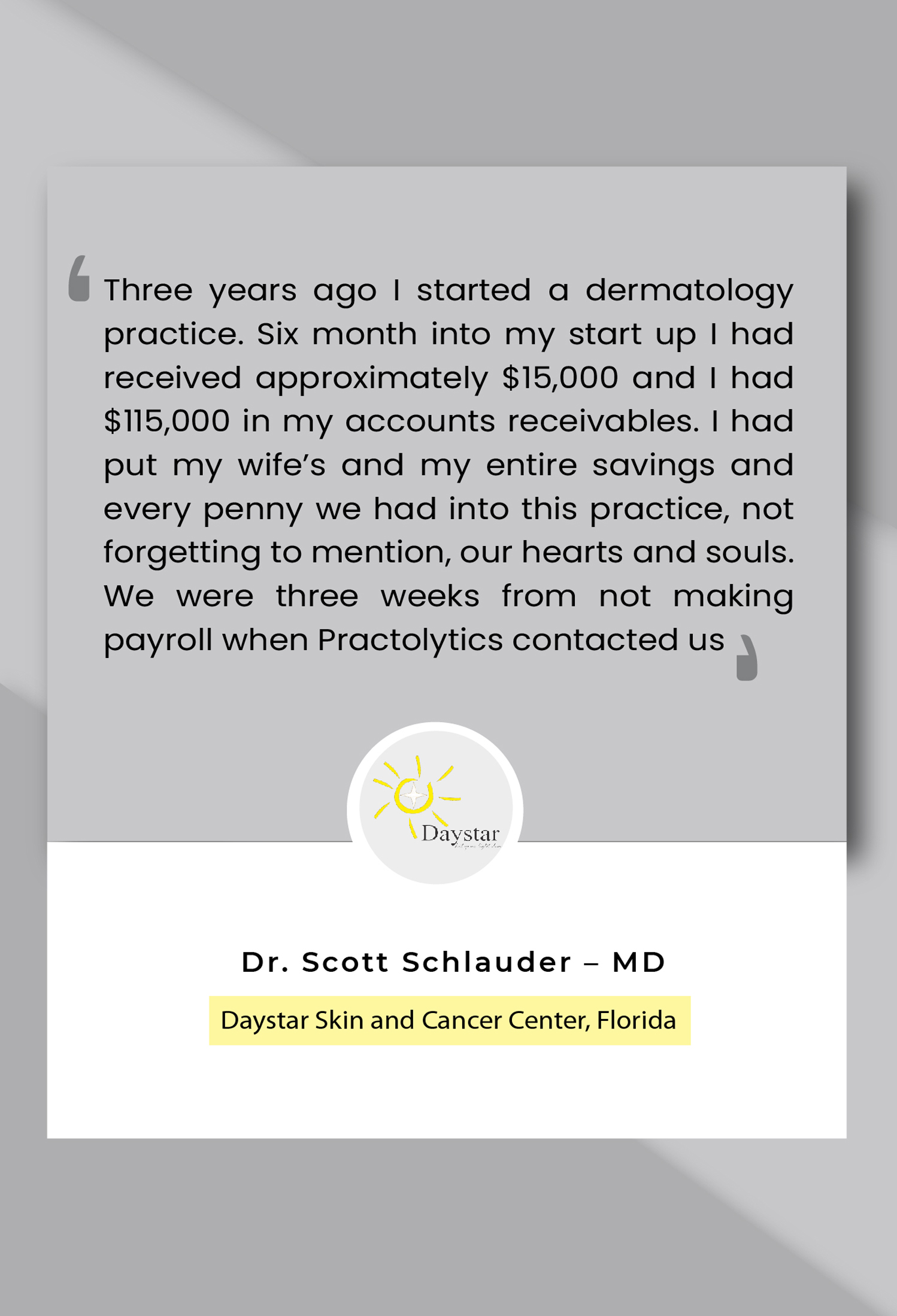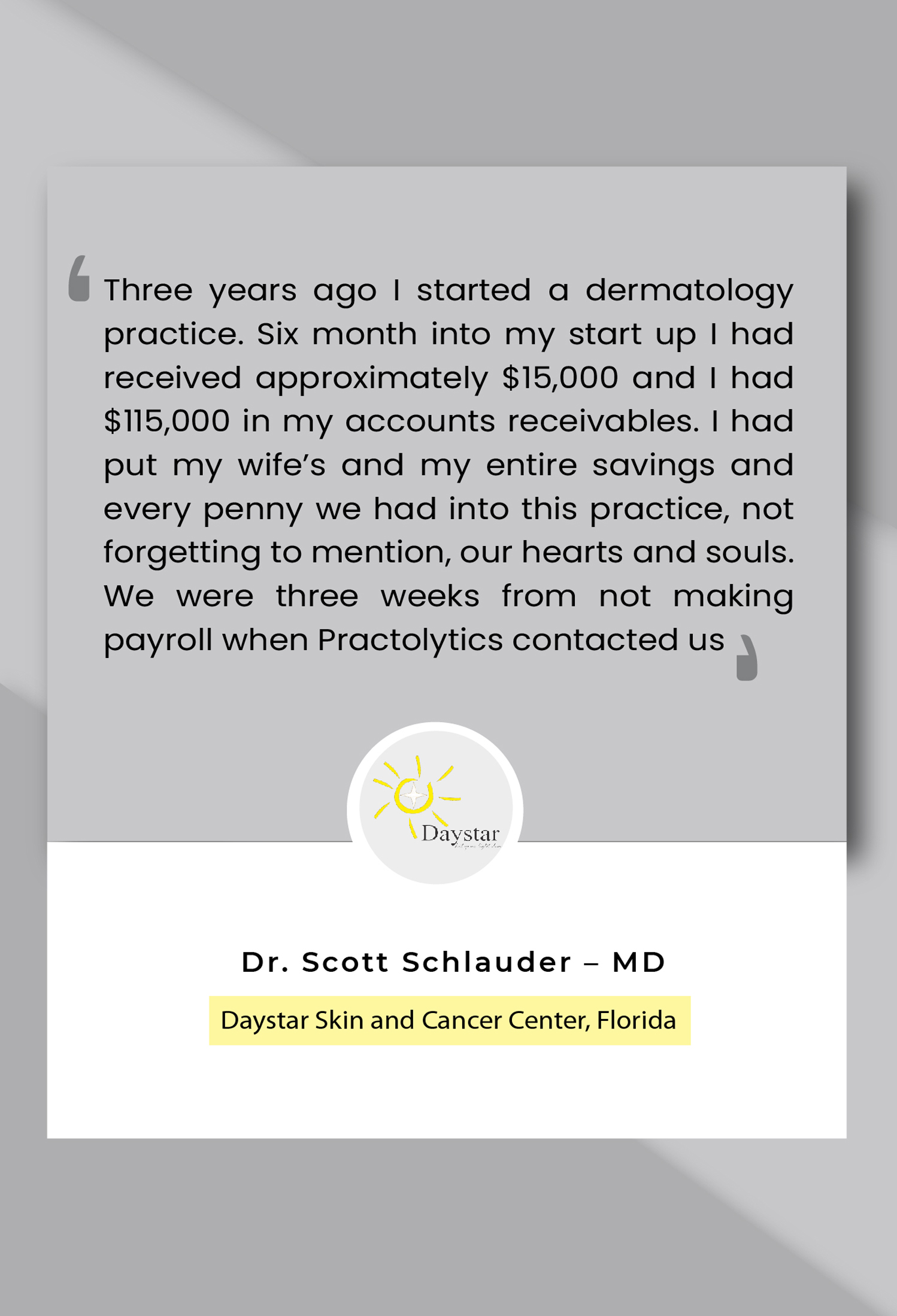 Are you on a look out for industry updates?
Stay updated and join the conversation with the latest facts.
A smart Spravato biller can make insurance providers pay for the Spravato therapy rendered to their policyholders. Here's how.

When in doubt, seek expert help. An experienced Spravato biller can help your Spravato practice flourish. Here's how.

The right Spravato billing solutions provider can streamline the tricky Spravato billing process for better revenue management.
Stay in the loop
Sign up for our monthly newsletter
By subscribing, I consent to the processing of the personal data that I provide Practolytics in accordance with and as described in the privacy policy.